Second Life UPS Mark II
1.

Introduction

The Secondlife UPS Mark II was envisioned as a successor to the Secondlife UPS Mark I model with the following improvements:
increased battery capacity
increased power budget
circuit simplification
modularity
improved load connectors
various other usability improvements (for example moving the fuses to the front of the enclosure)
better documentation
The basic premise is to provide a short depth (~250 mm) rack mountable UPS which instead of 230V AC can provide typical low voltages suitable for powering of CCTV cameras, sensors, routers, 802.11 access points, modems, switches, embedded systems (like a Raspberry Pi) and other small devices. This approach is advantegous in terms of saving rack space where a PDU does not have to be mounted as well as potential power efficiency gains of having fewer AC <-> DC power conversion steps.
The UPS design is built using off-the-shelf or recycled components with a few custom made printed circuit boards. Most notably, the UPS is designed to be enclosed using typical 19″ Ethernet switches. These can be obtained very cheap or even given away for free when equipment is discarded. Apart from a reusability solarpunk vibe Ethernet switch enclosures provide us with ready-made cutouts in their front panels. These originally house Ethernet connectors and have typical dimensions. This fact makes it easy to build a modular UPS device with standarised parts.
Even though any Ethernet 19″ rack switch enclosure can be used for this build, this particular UPS is going to be housed in an enclosure from a damaged Netgear GS748T switch.
The UPS design is focused around two buses providing standard 12V and 5V voltages using buck converters as well as a "direct" bus (labeled later as Vrail) which is connected directly to the battery or AC power supply. The peculiarity of this bus is that the voltage on it has a significant swing - from 11.2V when operating on an almost depleted battery towards 24V when operating on AC power. The advantage of using Vrail is that its current capacity is not limited by the DC-DC buck converters and can power more power-hungry equipment - for example a Netgear RN3138 NAS.
1.0.1.

More battery capacity

In order to provide more power as well as longer runtime, the UPS will contain a 4S24P Lithium-Ion battery pack built from refurbished 18650 cells having a capacity of around 600 Wh (if 2000 mAh cells are used).
1.0.2.

More power

After Secondlife UPS Mark I has been deployed there have been a number of changes and additions to my home infrastructure equipment rack. Power requirements have increased. In order to come up with more detailed power requirements for each voltage I measured the amount of current draw during normal operation for each piece of equipment and came up with the following calculations for the power budget requirements of the UPS. As the voltage on the Vrail bus is not constant and changes from 11.2V when operating on a discharged battery and 24V when operating on AC its more useful to specify it's performance in terms of power not current.
Table 1:

Devices connected to the UPS

| Device | 12V Current [A] (measured) | 12V Current [A] (max) | 5V Current [A] (max) | Vrail power [W] (measured) | Vrail power [W] (max) | Notes |
| --- | --- | --- | --- | --- | --- | --- |
| Router |   | 5 |   |   |   | Axiomtek NA342 |
| GPON Modem |   | 0.5 |   |   |   | HALNY HL-1GE |
| Core Ethernet switch | 1.33 | 4 |   |   |   |   |
| Planet GSD-800S switch |   |   |   |   | 21 | PoE injected |
| Ubiquity Unify AC Lite AP | 0.16 | 0.54 |   |   |   | Via boost converter and PoE injected, rated at 6.5 W (see datasheet), passive 24V PoE Mode B (230V/0.02A) |
| Raspberry Pi |   |   | 2.1 |   |   |   |
| Gate magnetic lock | 0.25 |   |   |   |   |   |
| Network Attached Storage |   |   |   | 40 | 100 | Built-in ATX power supply is 180W but real power draw has not exceeded 100W |
| Network Video Recorder |   |   |   |   | 40 | Boost converter to 48V |
| Security Cameras (total) | 0.75 |   |   |   |   |   |
| Miscelaneous (ie. rack fan) |   | 0.5 | 0.5 |   |   |   |
| Total | 2.49 | 10.54 | 2.6 | 40 | 161 |   |
1.0.3.

Capacity planning for power buses

We take into account an efficiency of 0.8 for the buck converters and assume that the lowest battery voltage will be 11.2V which corresponds to the BMS cutoff voltage of 2.8V per cell (11.2V = 3 * 2.8V).
Table 2:

Maximum current and power values for each bus

| Bus | Voltage [V] | Max current [A] | Max power [W] | Vrail load on batt power [A] | Vrail load on AC power [A] |
| --- | --- | --- | --- | --- | --- |
| 12 V | 12 | 10.54 | 126.48 | 14.116071 | 5.02 |
| 5 V | 5 | 2.6 | 13. | 1.4508929 | 0.4375 |
| Direct |   |   | 161 | 14.375 | 6.7083333 |
| Total |   |   | 300.48 | 29.941964 | 12.165833 |
All of the above calculations allow us to select:
internal wiring cross-section (AWG)
internal and external connector types
fuses
buck converters maximum power and current
AC power supply maximum power and current
An AC power supply with at least 300W is needed to power the loads with some room needed to charge the battery. For this reason a 400W power supply has been selected (see summary in BOM).
1.0.4.

Solid-state operation
1.0.5.

Modularity

One disadvantage of the previous Secondlife UPS design was the fact that the front connectors where loads can be powered were placed on hand-made breadboard PCBs. After some thought I have decided that this approach makes the design hard to replicate and adapt. To improve this I designed a number of standard sized PCBs that host common load connectors and fuse sockets. All of the PCBs fit into cutouts in Ethernet switch enclosures hosting 4x2 Ethernet ports. This is the most common cutout size in an Ethernet switch and it allows a user to mix and match modules based on their needs. Currently the available modules include:
a fanout with 8 x DEGSON 13EDGVC-3.5 pluggable load connectors with a power indicator LED, this module is designed to power low-power loads
a fanout with 6 x XT-60 pluggable load connectors with a power indicator LED, this module is designed to power high-power loads
a fuse module containing two fuse sockets accepting typical 5x20mm glass fuses
a fuse module containing one fuse socket accepting a 6.3mmx32mm glass fuse
All of these modules share a common mechanical design and can be used to build many types of front panel layouts. If the project is successful I'm planning to design other modules such as a PoE injector or a battery SoC (State of Charge) indicator module. Another future improvement idea is a 3D-printable drilling guide which will help with precision while drilling mounting holes in the enclosure.
As an example in the Secondlife UPS described in this document the following modules are mounted on a long (48 port) cutout in the enclosure:
one fanout with 8 x DEGSON 13EDGVC-3.5 pluggable load connectors module powered by the 5V bus
one fanout with 8 x DEGSON 13EDGVC-3.5 pluggable load connectors module powered by the 12V bus
one fuse module containing two fuse sockets accepting typical 5x20mm glass fuses protecting the 12V and 5V buses
one fanout with 6 x XT-60 pluggable load connectors module powered by the Vrail bus
one fuse module containing one fuse socket accepting a 6.3mmx32mm glass fuse protecting the Vrail bus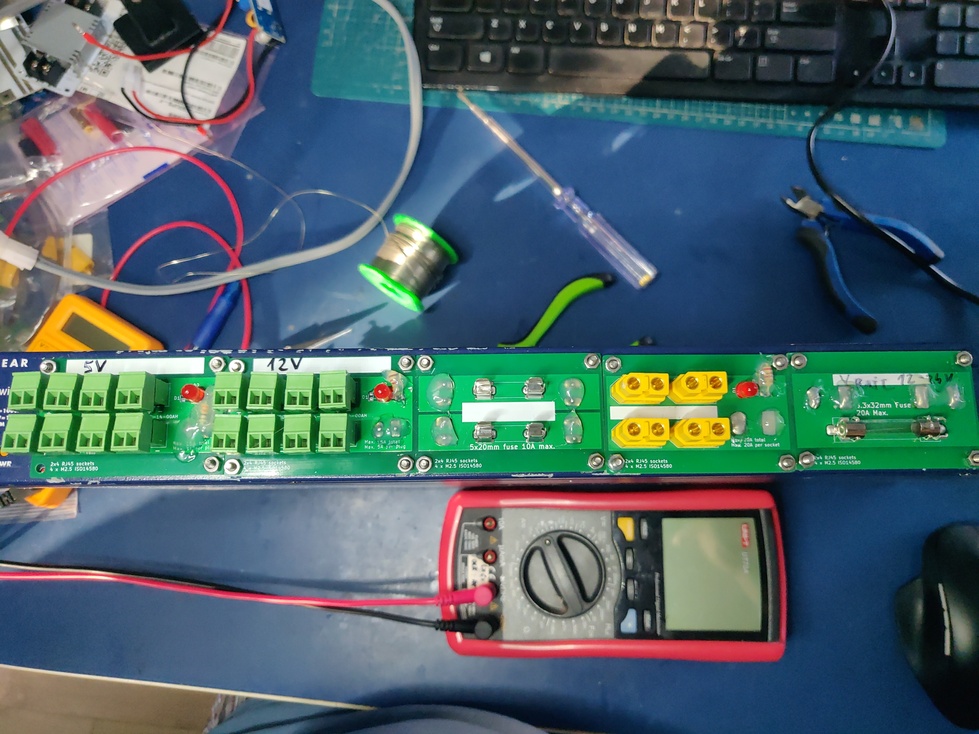 The exposed through-hole component leads have been covered with hot glue. In the future dedicated 3D-printable plastic covers might be introduced for each specific module which can be screwed on to improve the aesthetics.
3.

Build instructions
3.2.

Enclosure preparation

The steps below describe the preparation of an empty 19″ 1U enclosure for placement of UPS submodules. Most internal components from the device that you are reusing should be removed, some like AC sockets, grounding lugs or fans can be left in the case.
3.2.1.

Stud removal

After placing the batteries, AC power supply, DC-DC converters, BMS and other components some studs will need to be removed: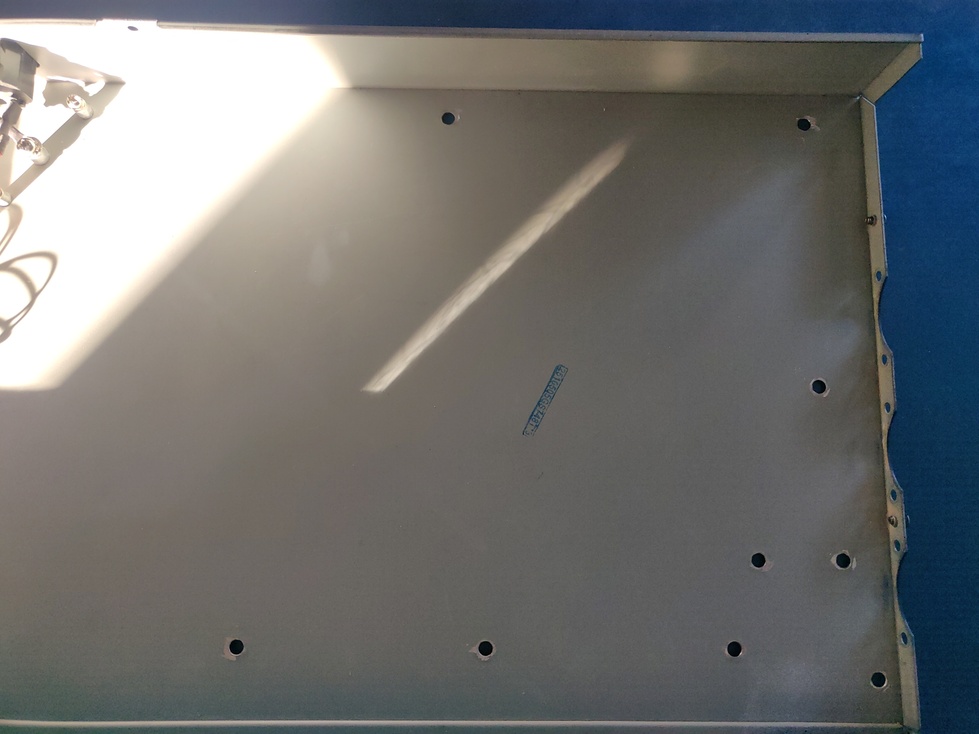 Some notes on the process:
Thoroughly deburr the corners of the drilled holes with a deburring tool or a Dremel. Leftover burrs can damage 18650 cell insulation sleeves and cause a short.
Drill with a 5mm metal drill
Drill from the bottom of the case
Use a puncturing tool for easier drilling. A cheap one can be bought for 2-3 EUR.
Support the chassis with 40mmx40mm wood cubes to prevent bending
3.3.

Front panel assembly

As described before the front panel is built up out of modular PCBs screwed to the front of the enclosure with screws and nuts.

The module PCBs have M2.5 screw holes drilled and in my case I used M2.5 x 8mm screws, washers and nuts to attach the modules. Each module covers the space of 4x2 RJ45 ports which is a typical cutout size for Ethernet switches.

Plan your layout first taking into consideration the routing of internal wires and other components like the power supply and batteries which can be pretty big. Plan for some clearance between elements.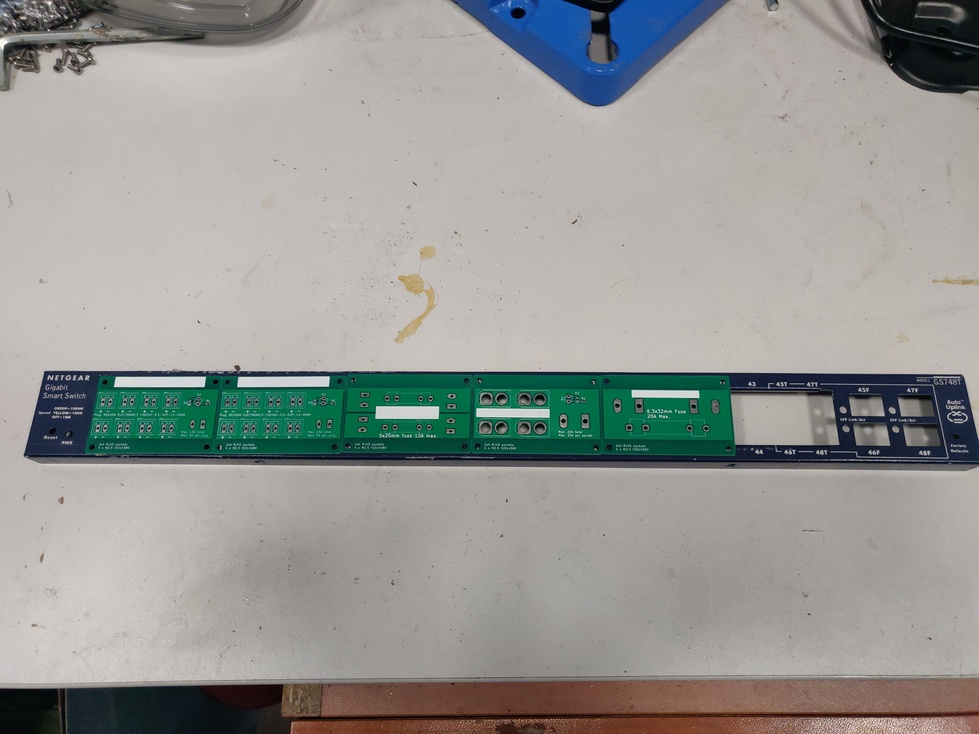 Usually the front of the enclosure can be detached from the rest of the case and this should be done first.
Tools needed for attaching the modules to the enclosure front:
drill press (optimal)
hand drill (usable)
a 3mm metal drill
dremel or deburring tool
hole punch
sharp pen for hole marking
The module PCBs can be placed inside or outside the front panel assembly depending on how the front panel latches onto the rest of the enclosure.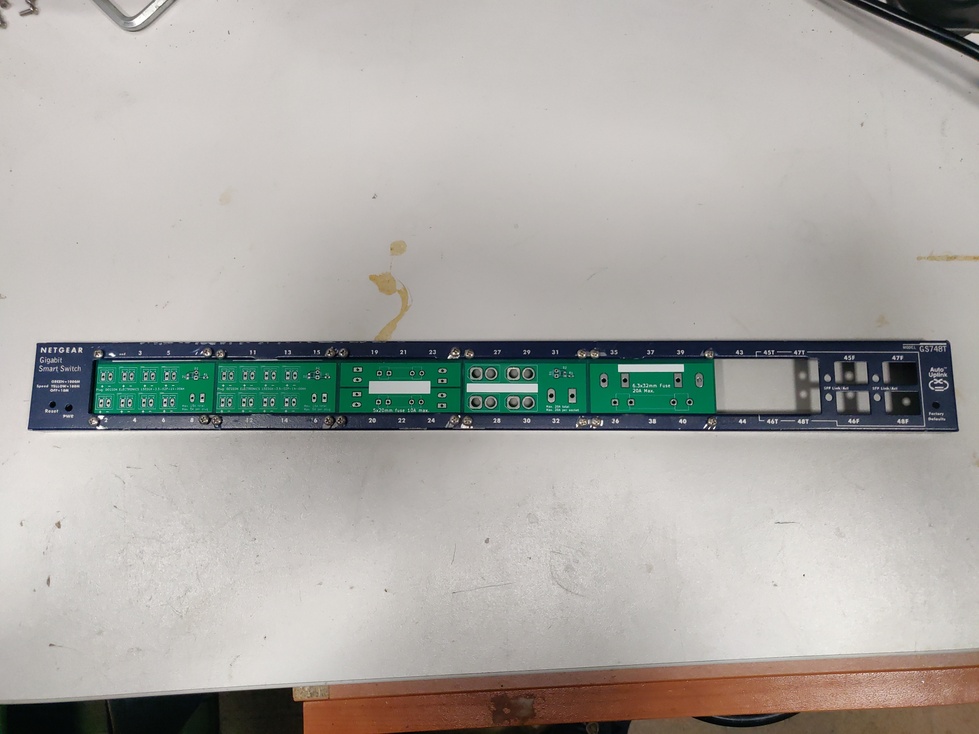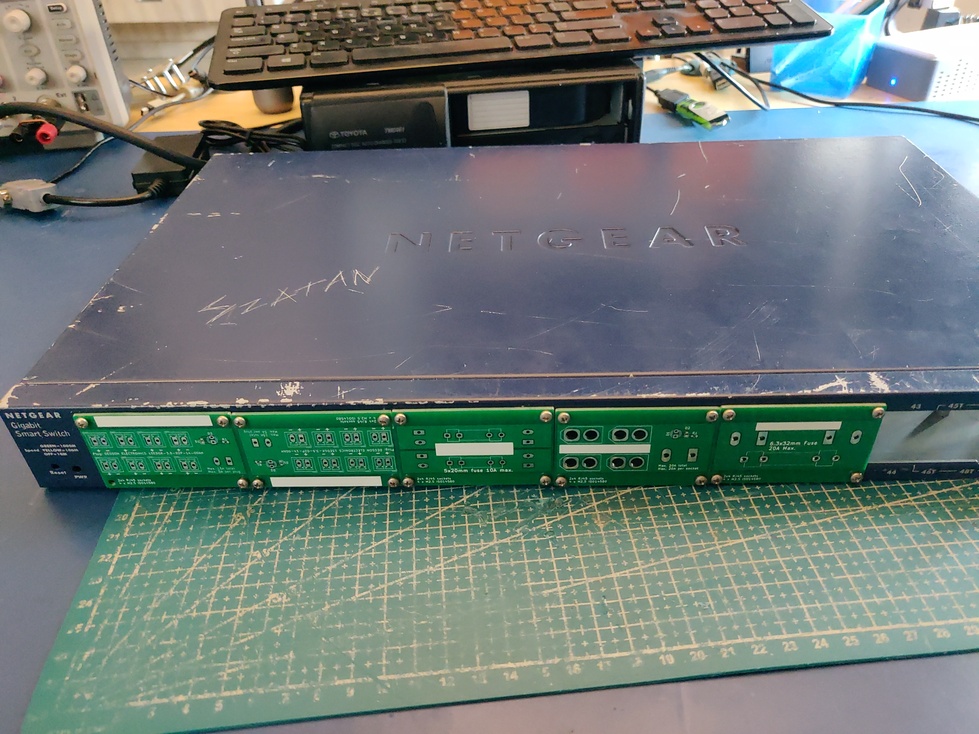 In my case the PCBs needed to be mounted outside with screws pointing outwards in order for the enclosure front to fit the rest of the case. Test the entire assembly process in order to be confident that there will be no problems later.
3.3.1.

Mounting the main battery fuse

The main battery fuse socket should be selected to handle the battery current and be easily mountable in the enclosure. The most practical sockets are those that can be mounted with just round holes. The fuse selected needs to be a DC fuse rated for the voltage that the battery operates on. Those types of fuses can be often found distributed under the "solar" or PV categories. The fuse that I used in my build is linked in the BOM at the end. As the fuse socket is pretty large, care needs to be taken to drill the main mounting hole exactly on the center of the back plane.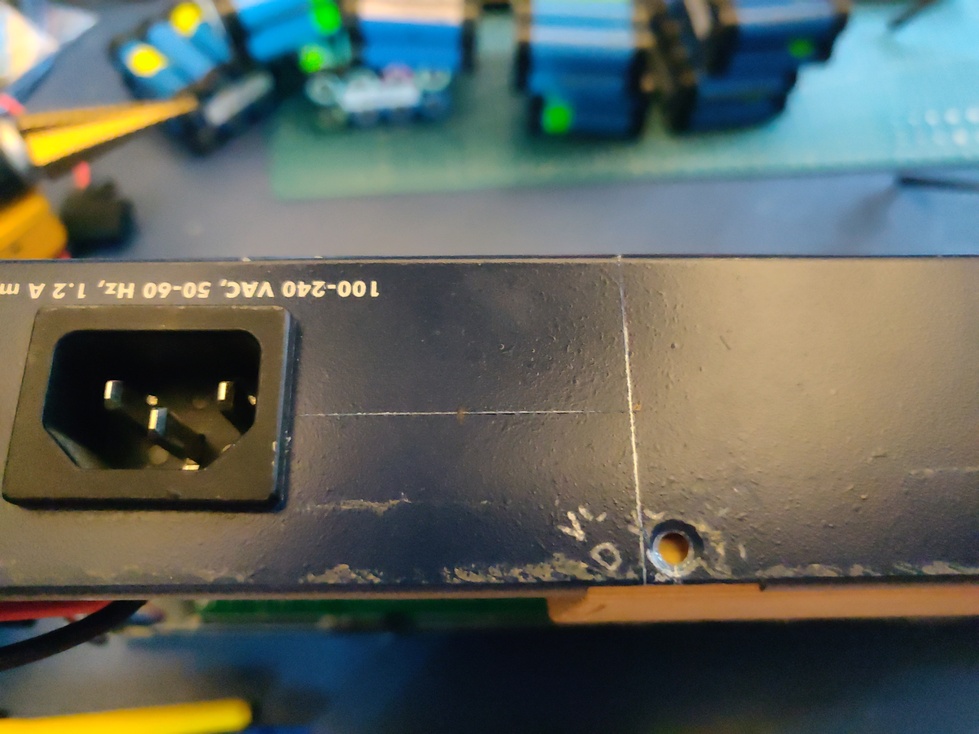 In my socket, M4 screws were used for mounting, 22mm hole was drilled with a step drill. Remember about lubricant, my Metabo BS 12 BL Q 20 Nm cordless drill was struggling a bit but you can do it with some patience.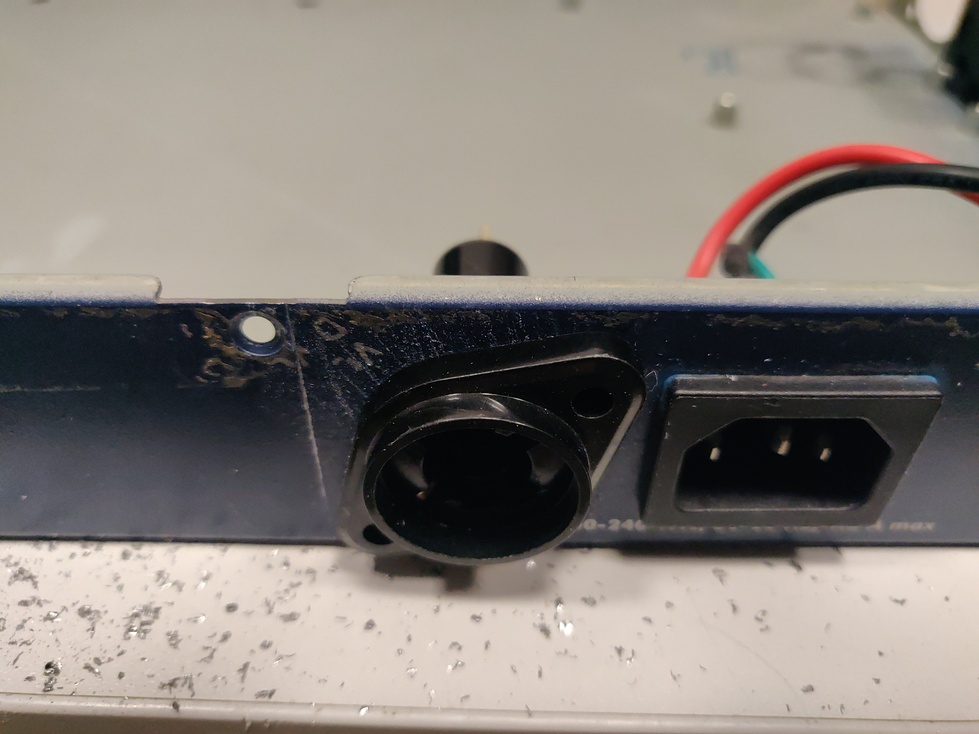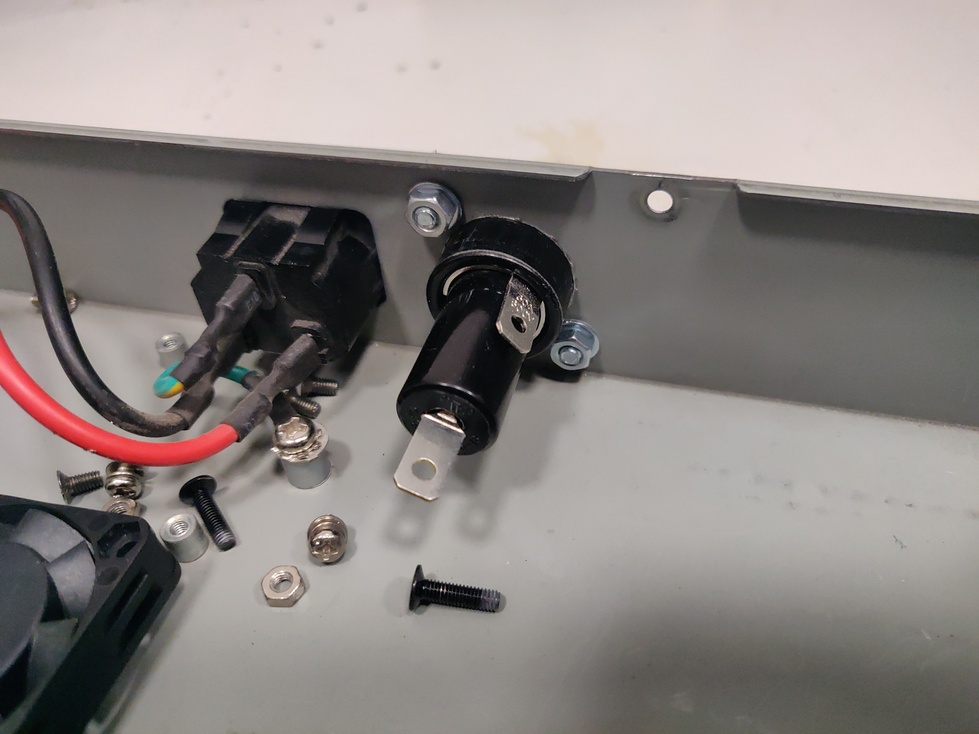 5.

Bill of Materials
Shipping costs and taxes are not included.
All prices are in EUR.
Table 4:

Bill of Materials

| Item | Type | Description | Unit | Amount | Price per unit [EUR] | Line total [EUR] | Purchase date | Notes |
| --- | --- | --- | --- | --- | --- | --- | --- | --- |
| Battery cells | Various | Li-Ion 3.6V 18650 Cells | pcs | 96 | 0 | 0 | N/A | From existing stock |
| AC Power supply | Coleen CB-400W-24V | AC 230V, 24V/16.6A | pcs | 1 | 19.9 | 19.9 | |   |
| Battery fuse socket | PMG-KB-01-Q2S | Fuse holder; 10.3x38.1mm; 30A; on panel; Cutout: Ø22.4mm; UL94V-1 | pcs | 1 | 8.77 | 8.77 | |   |
| Battery fuse | 0090.0030 SCHURTER | Fuse: fuse; gPV; 30A; 1kVDC; ceramic,cylindrical,industrial; ASO | pcs | 1 | 8.68 | 8.68 | |   |
| 12V Buck Converter | DN121 | VOLTAGE REGULATOR 24V to 12V 10A DC/DC Converter Step Down Voltage Transformer Buck Regulator Voltage for Solar for LED | pcs | 1 | 8.62 | 8.62 | |   |
| 5V Buck Converter | LM2596 Step Down Module | LM2596 Step Down Module DC to DC Adjustable Buck | pcs | 1 | 3.00 | 3. | |   |
| CC/CV Charger | XL4015 | Efficient Adjustable 5A DC-DC Buck Module Constant Current Voltage Regulator Step Down Converter Charging Board 5V 12V 24V | pcs | 1 | 2.31 | 2.31 | |   |
| Battery Management System | EGBO Store 4S/100A | 3s 4s 5s Bms 12v 16.8v 21v 3.7v 100a Li-ion Lmo Ternary Lithium Battery Protection Circuit Board Li-polymer Balance Charging | pcs | 1 | 2.27 | 2.27 | |   |
| Pluggable terminal blocks (sockets) | 15EDGVC-3.5-02P-14-00A(H) | Pluggable terminal block; 3.5mm; ways: 2; straight; socket; male | pcs | 16 | 0.19 | 3.04 | |   |
| Pluggable terminal blocks (plugs) | 15EDGK-3.5-02P-14-00AH | Pluggable terminal block; 3.5mm; ways: 2; straight; plug; female | pcs | 20 | 0.42 | 8.4 | | 4 spare units |
| Total |   |   |   |   |   | 67.18 |   |   |